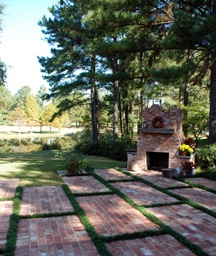 The clients have a home in the rural town of Pollock, Louisiana. The area is a pastoral setting with many abandoned, picturesque structures such as barns and home sites from the past.
The clients requested landscape architectural services to help them create a rear terrace area for outdoor living and enjoyment of desirable views into the property. The challenge to the landscape architect was to find a solution that was low budget and would artistically incorporate the client's personality. During initial interviews the landscape architect discovered the client's appreciation for the
picturesque quality of their rural location and the powerful imagery of many of the old abandoned home sites.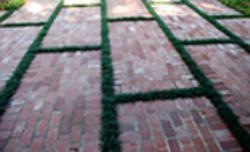 These early discussions kept leading to the description of many local home places where nothing but large trees and partial chimneys were standing.This imagery became the concept for the rear terrace. The terrace was
built of reclaimed brick from the area. The brick paving was 'broken' by 4" wide gaps planted with ground cover. This 'broken' paving pattern represented the broken places from the past.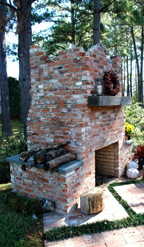 A freestanding fireplace was erected of the same reclaimed brick and was left unfinished to give the appearance of those left in ruins. Views were opened from this area toward a pasture and pond. Other than visual, the only connection to the pond is a subtle roll of lawn and a small rustic pier. The solution and resulting project was under budget and in the client's words
"more artful and symbolic than they had hoped for."